SCUBA DIVE CHARTERS IN EASTERN PUERTO RICO AND THE SPANISH VIRGIN ISLANDS
Pure Adventure is proud of our charter diversity; offering diving on all three Spanish Virgin Islands (Vieques, Culebra & Culebrita) off the eastern coast of Puerto Rico & St. Thomas. Whatever your diving wishes are, we will do our best to fulfill them!
All dives are guided by professional dive guides. Let us share the many unique wonders of the Caribbean seascape with you!
Rental Equipment is available at $9 per item for Regulator, BCD, dive computer, wetsuits, snorkel set and light. Please contact us if you would like to ship your equipment to us early so we can service your gear and have it waiting for you when you arrive!
Come and experience SCUBA diving, where and when you want to dive, at your own rhythm! Since every charter is upon request you can customize your day based on your needs and wishes. Options like: 3 tank dives, lunch, beach time after the dives, private lessons, night dives, ferry services, flexible schedule, cruise around, and more are possible when you charter the dive boat all for you and your party!
The Spanish Virgin Islands – Culebra and Vieques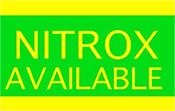 Only a few miles to the east of Puerto Rico, lie the Spanish Virgin Islands, also known as the "Passage Islands". This archipelago is where the islands of Culebra and Vieques are located along with their surrounding islets and cays.
For over 50 years the U.S. Navy used the islands for harboring ships, military maneuvers and bombing practice until 2003, keeping land developers and commercialism away. The result is pristine and unspoiled islands, with spacious deserted white sandy beaches; crystal clear turquoise blue water, and healthy intact reefs teeming with fish, coral and crustaceans.
You may book online from our Dive Charter Request form or call us at 787 202-6551, our staff will be happy to help with any questions.