SCUBA NIGHT DIVE CHARTERS IN EASTERN PUERTO RICO AND VIEQUES ISLAND
Come explore the undersea world at night and experience the ultimate dive. If you've never been night diving before, you don't know what you're missing! This is the perfect place to jump in and take the nocturnal plunge.
Even the experienced night diver will enjoy this dive. Octopus, puffer fish, lobsters, crabs, eels, nudibranchs, squid, turtles and more await your discovery.
Night Dives are scheduled for Tuesdays, Thursdays & Sundays from 5:30pm to 10:pm approximately.
One of the dive sites we typically use for the twilight portion of the charter is the Roosevelt Roads Water Dock, the primary night dive site, hook up the boat and have chips & fruit while we enjoy a Caribbean sunset on the water. Once the sun slips below the horizon we gear up and go dive!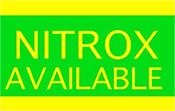 Definitely the ultimate dive experience for advanced SCUBA divers and the best time to see all the marine life that hides in the reef during daylight hours. Our night dive charter excursions consist of two tank dives; SCUBA Diving at night is typically done in two of our main scuba dive sites off the northern coaast of Vieques Island. Most of the time we visit a dive site known as French Town because of all of the french angel fish that inhabit the reef. On our second dive site we normally dive one of the piers of Vieques because of its abundance of marine life. Between the dives there will be local in-season fruits, a variety of drinks and tasty treats.
You may book online from our Dive Charter Request form or call us at 787 202-6551, our staff will be happy to help with any questions.