SNORKEL & CRUISE CHARTER, FAJARDO & VIEQUES, PUERTO RICO
Come and enjoy the best Snorkeling and Cruise Tour in Puerto Rico! Why…because you and your party have the vessel "Happy Hour" all to yourselves! Your own private boat!
That's right, we only take small intimate groups with a maximum of 6 guests per excursion.
Snorkel & Cruise Charter Details
 Half & Full Day excursions offered daily Monday thru Saturday for private groups (max. 6 guests)
 Duration:

 Half day 8:00 am – 12:00 pm
 Full day 8:00 am – 3:00 pm

 Launch Site: Pure Adventure's Dive & Snorkel Center, Roosevelt Roads Marina (30 minutes from Fajardo area)
 Quality snorkeling gear is provided
 Snorkeling Instruction for beginners
 Half Day Tour includes light snacks, refreshments and mixed drinks
 Full Day Tour Includes lunch, refreshments and mixed drinks
 Complimentary photos
 USCG licensed captain & professional snorkeling guide
 Rates:

Half Day Charter: $514 up to 6 guests (Flat Rate)
Full Day Charter: $769 up to 6 guests (Flat rate)
Please book least 2-3 days in advance!
*Full payment will be required at the moment of reserving.
Rates do not include sales tax and DRNA fees

If you need transportation, just indicate this in your booking form and will come and get you!
3 Reasons why this is the best Snorkeling Tour in Puerto Rico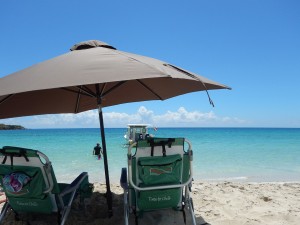 AN EXCLUSIVE, PRIVATE AND INTIMATE SNORKELING CRUISE
When you come aboard the dive boat "Happy Hour", it's just you and your family or friends in a small group no larger than 6 passengers. Other tour operators cram 40 to 60 guests to a boat – everyone's shoulder to shoulder! With us it's: RELAX & TAKE A CRUISE in your own private boat with your own personal captain and professional snorkel guide. You'll enjoy personal interaction with our crew that no other tour operator can provide.
UNMATCHED SNORKELING GROUNDS – OFF THE BEATEN TRACK!
Not all snorkeling grounds in the Fajardo, Roosevelt Roads and Vieques areas are equal! We take our guests to uninhabited cays, pristine beaches and snorkeling waters where the BIG boats with large tour groups can't go.
Pure Adventure recently has gained access to the former naval base, Roosevelt Roads, which for seven decades has been off limits to the general public. This enormous area on Puerto Rico's eastern coastline is studded with white sandy beaches, hidden coves and the most impressive marine life and snorkeling grounds like on "Piñero" Island. YOU WILL SEE colorful coral reef forests and a variety of sea life unequaled by snorkeling areas visited by other tour operators.
YOU DECIDE WHERE TO GO!
Only Pure Adventure lets you decide the itinerary. More beach or more snorkeling – you decide! Too crowded on that beach, let's choose another one! Or if sea conditions are too rough in one spot, your captain will find a calmer anchorage. This does not happen with other high volume tour operators that follow "locked in" itineraries.
The Spanish Virgin Islands – Culebra and Vieques
Only a few miles to the east of Puerto Rico, lie the Spanish Virgin Islands, also known as the "Passage Islands". This archipelago is where the islands of Culebra and Vieques are located along with their surrounding islets and cays.
For over 50 years the U.S. Navy used the islands for harboring ships, military maneuvers and bombing practice until 2003, keeping land developers and commercialism away. The result is pristine and unspoiled islands, with spacious deserted white sandy beaches; crystal clear turquoise blue water, and healthy intact reefs teeming with fish, coral and crustaceans.
With over 25 small islands and cays and countless snorkeling reefs the options are endless!
Discover the pleasures of having the whole vessel for your friends & family, while snorkeling the reefs or relaxing at the beach – all at your own pace and rhythm. Just the way you want it!
If you're driving in:
Drive Time: 1 hr 45 minutes from Metro San Juan to Ceiba, Roosevelt Roads Marina (Click here for Driving Map)
Drive Time: 45 minutes from Humacao to Ceiba, Roosevelt Roads Marina (Click here for Driving Map)
Drive Time: 30 minutes from Fajardo to Ceiba, Roosevelt Roads Marina (Click here for Driving Map)